Madman Mike's DJ Service in Metro Detroit Michigan
Mike is retired, no longer in the DJ business. He was a popular Professional Mobile DJ for 36 years and Professional Wedding DJ for 30 years.
To contact Mike by e-mail, go to → Message For Mike page
---
Madman Mike Your Musical Slave DJ Music Entertainment
Retired, but was known for...
Usually hooking up TWO Laptops with MP3 Mixing Software (Traktor Pro) plus a dual cd player – two instant music playing back-ups, no down time!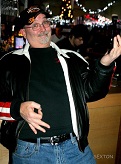 Since 1981 it has been a prvilege being the DJ for many weddings, special events, charity and non-profit events, class reunions, car shows, bars, parties and more.
I've been the DJ at events in Cobo Center, The Roostertail, the Detroit Marriott at the Renaissance Center, Amway Grand Plaza Hotel in Grand Rapids, Community Center in Traverse City, Kellogg Hotel & Conference Center in East Lansing, VFWs, FOEs, Moose, American Legion, other private clubs, various Bars, even backyards! Way too many venues to list here.
Below is a Sample Event List of a few favorites and noteables from my Former Professional Mobile DJ Service.
October 3, 2008 – volunteer DJ for ABC Extreme Makeover Home Edition, Nickless Family – Wrap-Up Volunteer Party – in Holt, MI.
July 20, 2012 – DJ for USA Gymnastics welcoming party at Cobo Center.
July 25, 2012 – DJ for USA Gymnastics closing party at Cobo Center.
1986-2016 – volunteer DJ for Detroit Special Olympics Area 26 summer games, every year for 30 years. In 2008, Martha Reeves (of Martha Reeves and the Vandellas) presented me with the 2008 Detroit Special Olympics Area 26 Volunteer of The Year award.
Like Mike on Facebook! click → Madman Mike Music Slave facebook
For Mike's personal side on Facebook, click → Mike's Personal Profile
INFORMATION ON MIKE'S SITE
---