Music Fest 4 Vets Music Festival
Next Music Fest 4 Vets might be in 2020.
Music Fest 4 Vets 2018 was Saturday, September 15 at Motor City Eagles in Redford Twp., MI.
Annual Michigan music festival held in the Metro Detroit area, proceeds go to U.S. Veterans in need. This all-ages summer music festival features variety live entertainment with bands musicians entertainers all coming together to donate performances to support Vets!
Website, click → Music Fest 4 Vets (musicfest4vets.org)
Facebook, click → Music Fest 4 Vets Facebook
Twitter, click → Music Fest 4 Vets Twitter

Music Fest 4 Vets 2016 was August 13 + 14, Saturday and Sunday, held at VFW Post 9885 in Westland, MI, Ford Rd & I-275 area.
2016 Music Festival Proceeds went to...
This annual music event started in 2006, originally called Michigan Vet Fest. click → Michigan Vet Fest is now Music Fest 4 Vets music festival
Music Fest 4 Vets is a true show of support for our Veterans. Consider...
Bands and Musicians donate their time and talents to support our Veterans. All other volunteers are also donating their time.
People running the organization and the fest do not get paid.
THANK YOU to all bands musicians entertainers, music fans, Veterans supporters, volunteers, sponsors and venues for supporting our Vets!
2015 info: click → Music Fest 4 Vets 2015
2014 info: click → Music Fest 2014
Madman Mike is a year-round Volunteer for the Music Fest 4 Vets.
Mike is on Facebook, click → Madman Mike Facebook
Annual Music Fest 4 Vets Proudly Supports U.S. Veterans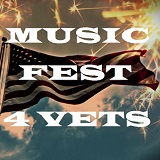 INFORMATION ON MADMAN MIKE'S SITE
---