Michigan Vet Fest now Music Fest 4 Vets Music Festival
Michigan Vet Fest changed name to Music Fest 4 Vets, annual music festival in Metro Detroit, proceeds go to U.S. Veterans in need. Music Fest 4 Vets is the continuation of the original Michigan Vet Fest, an annual event started in 2006. New name better shows its a music entertainment event supporting Veterans and avoids confusion with many vet fest names.
MichiganVetFest.com changed to MusicFest4Vets.org
Go To New Website! click → Music Fest 4 Vets Music Festival
Fest on Twitter → twitter.com/musicfest4vets @musicfest4vets
Russ Barnett, a Vietnam Vet and musician, was a founder of this annual music event in 2006 to help Veterans in need and ran it through 2014.
Russ asked Madman Mike Your Musical Slave to take over the fest starting in 2015. Due to out-of-date listings and similar sounding vet fest names, Mike updated the name to better reflect what the event is actually about.

MUSIC FEST 4 VETS
August 13 + 14, 2016
in Metro Detroit, Michigan
Music Fest 4 Vets – Proudly Supporting U.S. Veterans!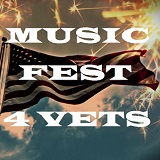 INFORMATION ON MIKE'S SITE
---