Mike's Mobile DJ Service in Metro Detroit Michigan
Mike is now part-time after 35 years being a full-time professional Mobile DJ. He's upper middle-aged, still owns his professional DJ equipment, music stays up-to-date. But no longer has back-up DJs nor Liability insurance.
Based in the center of Metro Detroit, Mike's DJ Music Entertainment Service is available only in the greater Detroit area plus some other areas in Michigan's lower peninsula.
NEWS: Mike is out of the wedding DJ business, will rarely DJ a wedding in the future. Mike is passing the wedding torch to other DJs.
Special events, fundraisers, class reunions, car shows, parties and more. But NO children parties, under 21 parties, school dances, etc., he lets the younger DJs do them.
Mike does not offer karaoke. If you need karaoke → click here
To instantly see if Mike is available, click → Mike's DJ Schedule
Dates already booked and commitments are posted on his schedule page.
For Serious Inquiries and Personal Reply, use Check Availability.
Just looking for Wedding DJs?
Mike lists them on his → Michigan Wedding Slavin The Website
---
Madman Mike Your Musical Slave is a WeDJ Gold Member

Overview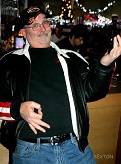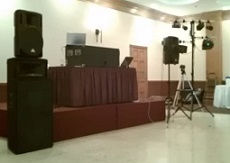 Highlights of Mike's DJ Service
DJ Prices are Flat Rates. No hidden costs, no per-hour charges, no time limit. see prices
Mike books only ONE event per day. No over-bookings or double-bookings.
At most events, Mike hooks up TWO Laptops with Professional MP3 Mixing Software plus a cd player. He provides instant music playing back-up ready at all times, no down time.
Music: your choice. It's YOUR event – hear the music you want.
Attire – suit, tux, casual, jeans, theme... your choice.
Private Event? Mike does NOT invite observers watchers. see explanation
Mike is your DJ, not a surprise trainee or subcontracted fill-in.
DJ Style: your choice. sophisticated to interactive/fun.
Mike has experience at many venues → see list on separate page
Mike owns and uses professional DJ Equipment, shown lower.
Mike's DJ Prices for Metro Detroit area
Posted Prices below were updated/changed on October 7, 2016.
Prices are Flat Rates: no per-hour charges, no hidden costs, no time limit. Normal DJ equipment and normal DJ duties included. Lights for dancing, handheld wireless mic, back-up DJ equipment at event, setting up before event is scheduled to start, are all included.
Deposit is required to book Mike.
Balance is due at Beginning of Event, not required before event.
These are non-wedding prices...
DJ Price: $500
Deposit: $200
Balance: $300 is to be paid at beginning of event.
New Year's Eve (no matter what day of the week)
Price: $1,000
Deposit: $400
Balance: $600 (balance must be paid before 10 PM)
(NYE price is much lower/negotiable for FOE, MOOSE, VFW, DBS event)
FOE, MOOSE, VFW, DBS sponsored events – prices are much lower than posted above, sometimes no charge, price depends on the specific event. Mike is a member of all four nonprofits, glad to give them a big price break.
Charity Events – Mike discounts or donates a lot of his time to charitable causes. DJ Price depends on the cause, location, and what is needed. Mike will do some for free, others almost full price.
Potential Additional Cost to prices posted above.
• Travel or Gas Charge if event is not in Metro Detroit.
• Excessive Load-in/out logistics (harder than average or expensive).
No extra charge for Security Check Points and getting my vehicle x-rayed. Since there are no per-hour charges, there would be no charge for arriving extra early to handle additional time for security verification.
Mike's DJ Equipment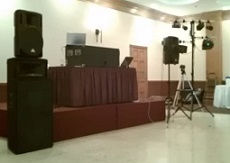 Mike's DJ System consists of two laptops with mp3 mixing software, a dual cd player, mixing board, amp, speakers, wireless handheld microphone, multi-colored lights for dancing, and more.
Mike's DJ Set Up is a commercial equipment Professional DJ System, not simply one laptop with two small speakers that some DJs use.
Mike's Music
Great Dance Music and Party Music
Blasts from the past to today's top tunes. Popular Dance, Classic Rock, Country, Motown, Oldies, some Hip Hop and more. Examples...
24K Magic, Uptown Funk, Wobble, Cupid Shuffle, Cha-Cha Slide (Casper Slide), The Hustle (My Eyes Don't Cry), Sinatra, Elvis, Kid Rock, Bob Seger, AC/DC, Beyoncé, Pitbull, The Supremes, The Temptations, Luke Bryan, Taylor Swift, many more. Plus Halloween songs, Christmas songs, etc.
Observers Watchers – Advice For Private Events
Some DJs allow strangers, usually called Observers or Watchers – people you don't know, the DJs don't know, were not invited by you, but invited by the DJs to watch them work at private events such as weddings, anniversaries, birthday parties, and so on. These DJs are using your private moments as public auditions. Mike does NOT bring observers to private events.
However, if you are comparing DJ services and are including those that do allow observers, Mike has important legal advice for you → click here. After learning how to protect yourself regarding observers, click your Back button to return to this page.
MIKE'S BOOKING POLICY
How Far In Advance Do You Need To Book Mike?
Impossible to say. Why? Since Mike only books one event per day, someone might have just booked your event date while you were reading this. Or it might be available up to your event day.
Therefore...
It is The First Person To Supply A Deposit, Books Him policy. Mike does not use the marketing gimmick of saying that you better book now because many people are looking at your date. Even when true, it sounds like a tacky high pressure sales pitch. Mike is honest, doesn't need nor use sales pitches.
Take a look at his up-to-date posted Schedule. If your date is not listed, take your time and compare DJ Services. If you are seriously considering Mike, use Check Availability box on that page or near top of this page.
If you want to book Mike, check his Schedule Page again to see if he is still available. If you already used Check Availability, simply reply to his personal email and state that you have the deposit ready and want to book him. If you haven't used Check Availability, use it now.
Facebook?
Mike's personal Facebook, click → Mike's NEW Personal Profile
INFORMATION ON MIKE'S SITE
---